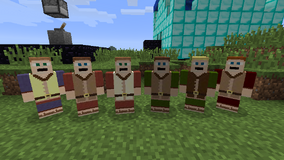 The Awaken Dreams Mod adds many mobs to the game, here is a list of all of the mobs currently in the mod or planned to be in the mod. Note: this list does not include NPCs.
Hobbits (Villager, Protector, Leader)
Orc (Swordsman, Archer)
Female Mobs
Fat Mobs
Elves
Dunedain
Humans
This list is currently very incomplete.
Ad blocker interference detected!
Wikia is a free-to-use site that makes money from advertising. We have a modified experience for viewers using ad blockers

Wikia is not accessible if you've made further modifications. Remove the custom ad blocker rule(s) and the page will load as expected.